One of our trained SRTS educators will visit your site to provide students with knowledge and training on the basics of safe bicycling.
Lesson 1 is a classroom overview/lesson reviewing basic bike safety concepts, including helmet safety
Lesson 2 puts the concepts introduced in lesson 2 into practice, with a "silent safety signal" intersection simulation in the classroom, where students learn the importance of laws and communication on the road. 
These two lessons combined will prepare your students for a 4th grade on-bicycle PE class (aka) rodeo, if one is scheduled at your site.  However, the lessons stand alone as well, if a 4th grade on-bicycle class is not taking place at your site this year. 
We book 4th grade Bike Basics lessons year round to enrolled sites on a first come, first served basis. To request a visit*, email our SRTS Education Team.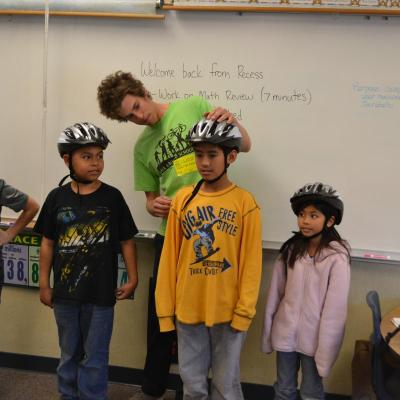 *limited availability, first come, first serve, as budget and schedule permits