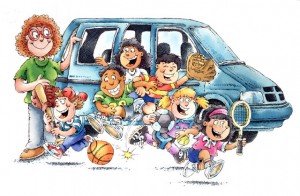 Encouraging Carpooling - or taking transit - to school can also be part of a Safe Routes to School program.  Reducing the number of vehicle trips to/from school decreases congestion and greenhouse gas emissions - and less cars on the road improves safety as well!
There are a number of ways to encourage carpooling at your site:
Enable parents to easily contact each other via a school directory.  If funding is not available to print a directory, make a simple excel list of families available by request only.  Notify parents that a printed directory can be obtained from the school office by request.  Note: an "opt out" directory produces better results than an "opt-in" directory.
Encourage carpooling with special drop-off or parking areas for carpoolers.
Actively promote carpooling at school events early in the year (such as Back-to-School Night).  Designate a carpool coordinator, pass up sign-up sheets at events early in the year (or through backpack mail), and have the coordinator facilitate families linking up.
Post a map for the purposes of linking families up for car, walk or bicycle pools. 
Promote the 511.org School Pool System
Hold a Carpool-to-School Day event or series of events.
 
Carpool to School Day Resources
The following resources may be utilized to hold a Carpool-to-School Day event at any time during the school year.