FIRE UP YOUR FEET Promotion - LOCAL/SCBC SAFE ROUTES TO SCHOOL 
The SCBC/SRTS Fire Up Your Feet Program encourages entire families to utilize active transportation - walking, bicycling, scootering, or skateboarding - anywhere they travel, whether it is to/from school, to/from work, to the movies, park, friend's house, grocery shopping, and more!  Families receive a Fire Up Your Feet tracking log, and each day during the promotional month (any month the school chooses), each willing family member tracks the minutes they utilized active transportation.  At the end of the month, the family averages out their minutes and turns their tracking log to the school to be eligible for prizes and/or acknowledgements (whatever incentive the school comes up with). 
A "family" can be any group of at least two, with one adult "leader."  For more information about how to implement a Fire Up Your Feet Promotion at your site, contact saferoutes@bikesonoma.org or simply download the Fire Up Your Feet Promotional Materials below and run the program at any time convenient for your site!
 
FIRE UP YOUR FEET PROMOTIONAL MATERIALS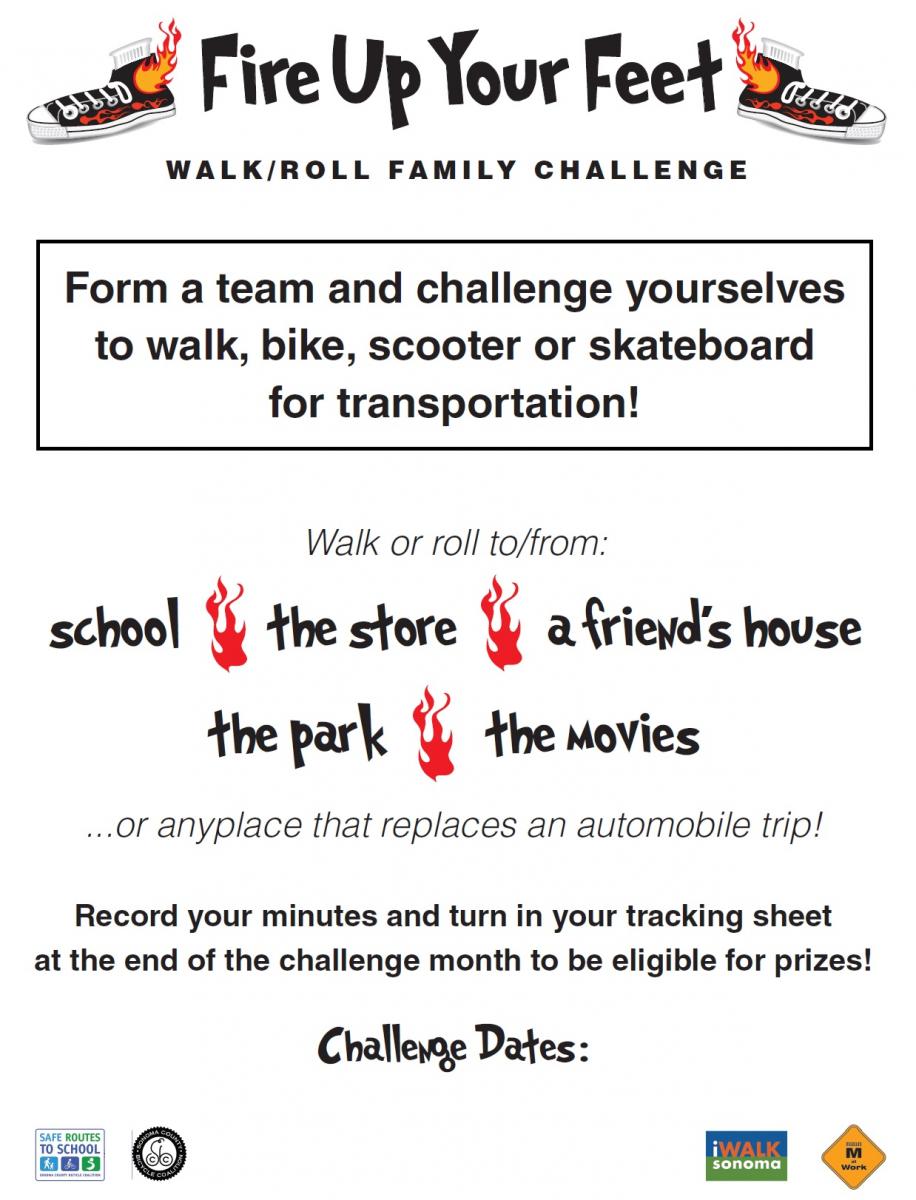 FIRE UP YOUR FEET - STATE/NATIONAL
 
The Safe Routes to School National Partnership and Kaiser Permanente have also developed a National Fire Up Your Feet initiative (same name, separate program from the SCBC/SRTS program).  The National Fire Up Your Feet Initiative enables school to participate in bi-annual month-long online "activity challenges" (one during the Fall and one in the Spring).  Schools with the greatest % of participation can win cash.  The National Fire Up Your Feet Program also has a fundraising mechanism that school PTA's can utilize for fundraisers that focus on physical activity.  Click on the image below to go to the Fire Up Your Feet website and find out more!