The following handouts may be posted on school/district websites, sent home via email or backpack mail, attached to school newsletters, passed out at events and more to promote bicycle & pedestrian safety and/or the benefits of walking, bicycling, and reducing traffic/emissions to your school community.  Preview thumbnails below, then click on the highlighted English and/or Spanish text to download handouts as PDFs or, in some cases, customizeable Word documents.

Student/Parent Bicycle/Pedestrian Safety "Be a Roll Model" Pledge (English/Spanish)

Walk Smart - Best practices for walking safely (English) (Spanish)

Bike Smart - Best practices for safe bicycling (English) (Spanish)

Drive Smart - Best practices for driver awareness and safety in school zones (English) (Spanish)

Bicycle Safety Tips - More comprehensive bicycle safety tips, developed by National Highway Traffic Safety Administration (English/Spanish)

Helmet Fitting Tip Sheet - How to properly fit a bicycle helmet (English/Spanish)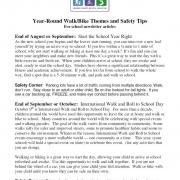 Monthly Newsletter Content, Safety & Health Tips - Insert thematic SRTS "blurbs" into monthly school or PTA newsletters.  Safety and Health tips also included for each month.  Pick and choose information you would like to include in your school newsletters!

What Good is a Ton of Carbon - concrete explanation of what "good" it does to save a ton of carbon.  May be customized to school-specific carbon savings goal (English/Spanish, MS Word)

Teacher Encouragement Letter for Walk & Roll - Pass out to teachers in advance of International Walk & Roll to School Day to suggest how they can engage students in the event. (English only, MS Word)